Welcome to our home on the Coromandel Peninsula
Situated midway between Whitianga and Coromandel Town, Kuaotunu is a small coastal village with a strong community spirit.

This website aims to foster this sense of community by providing a central resource of information about Kuaotunu.
KRRA Annual General Meeting
Please join us at 3pm on Easter Sunday (9 April) at the Kuaotunu Hall for the Annual General Meeting of the Kuaotunu Residents & Ratepayers Association.
All welcome!
March 18, 2023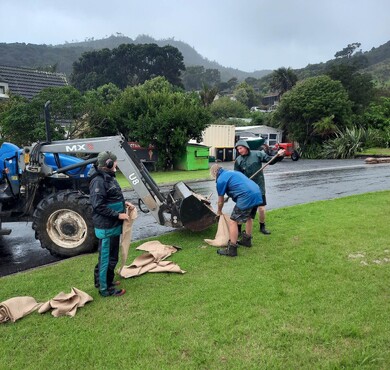 A huge thank you on behalf of our whole community to our local emergency responders, who did an awesome job as usual.Do you have any thoughts on our community's response or perhaps ideas on how we can improve our resilience in the future? Come along to the KRRA (Kuaotunu Residents & Ratepayers...
read more
Our strong sense of community spirit is one of the key reasons people choose to live in Kuaotunu
Whether you simply like to chat to your neighbours over a coffee in the village, or get stuck into some serious work, your contribution will be welcomed and appreciated.
Attention landowners
Did you know that the Waikato Regional Council works with landowners on catchment new works and river works?
Kuaotunu Residents & Ratepayers Association​ (KRRA)
Are you passionate about Kuaotunu? Do you want to make sure your views are represented on local issues?
Join KRRA and...
Be heard on issues that matter to you
Help make sure our community stays a great place to live
Acknowledge the work that the Association does on behalf of Kuaotunu
Get to vote for the committee and on key issues
5:00pm, Sunday 9 April 2023
Kuaotunu Hall

Already subscribed but not getting the newsletter? Try adding info@kuaotunu.nz to your Contacts list or Address Book.